1D, 2D ,3D Skin Rejuvenation
3D SKIN REJUVENATION
"Beautiful skin beautiful you"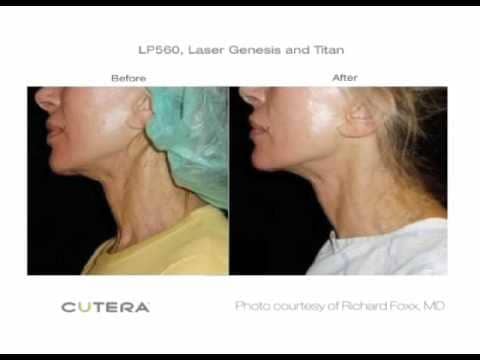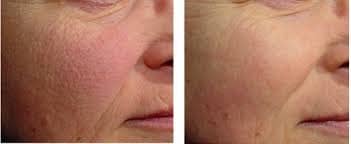 (*Disclaimer: Please note that treatment results will vary from individual to individual.)
3D,2D, 1D Laser Skin Rejuvenation
3D Laser Skin Rejuvenation – Exclusive
Every person ages in different ways. Some develop redness, age or sun spots. Others have large pores, fine lines and wrinkles or lax skin. You may have one, two or all of these conditions.
Solihull Medical Cosmetic Clinic under the supervision of Dr Sagoo is proud to be the first clinic in the UK to offer the latest laser treatment that may help with sun damage or aging skin. Unlike current laser treatments, which may only target one or two signs of aging, Laser 3D Skin Rejuvenation may target three layers of the skin (superficial, middle and deep dermis) all in one treatment! Utilising a three tiered approach, the 3D laser may improve a variety of conditions, including redness, age or sun spots, large pores, fine lines, wrinkles and lax skin.
3D Laser Skin Rejuvenation involves using three separate non-invasive laser procedures, each targeting different problems depths of skin involvement, and uses them in various combinations. The treatment may help to:
Reduce sun spots
Reduce facial redress
Reduce pore size
Improve and smooth the texture of the skin
Tighten loose skin
Reduce fine lines and wrinkles
Stimulate and remodel damaged collagen
All at the same time, with no downtime and non-invasive.
Common Questions
Who can be treated?
Men and women of any age who wish to improve their skin can be treated. The most common conditions that this treatment may help with are surface wrinkles, redness, brown spots and enlarged pores.
What areas can be treated?
The most popular treatment areas are the face and neck but other body parts such as the hands, arms and abdomen can also be treated.
What do treatments feel like?
Using three different laser treatments to treat the three different layers of the skin, the first intense pulsed light feels like a mild brief pinching sensation. The second laser photo-rejuventaion feels gentle and soothing. Most patients are comfortable without feeling any pain, in the session you will feel  warm pulses along your skin. The 3rd is radiofrequency energy which works on the deep level of the skin to tighten. This leads to generalised heating of the skin to optimum temperatures to cause immediate collagen contraction followed by gradual collagen contraction over  a course of treatments.
How many treatments will I need?
Each treatment regime is different and customised to an individuals needs. Most patients can expect up to  4 to 6 treatments.
Are there any side effects?
The most common side effect is slight redness or mild swelling that disappears within a few hours.
When will I see the results?
Most people see results within two to four weeks, and improvement may continue for several months. Results will vary from person to person.
What are the three laser treatments used at the same time?
1.Intense pulsed light therapy is a light based treatment that may improve problems right at the skin's surface, such as redness, mottled complexions, freckles and sun damage.
2.Laser photo-rejuvenation utilises a laser, and may help to tighten skin. This may improve fine lines, may shrink pores and may decrease redness found deeper in the epidermis. It has also been shown in research to stimulate the creation of new collagen, which may give your face a more revitalised appearance.
3. Fractora Forma uses radiofrequency wave to heat tissue, which leads to skin contraction of loose skin.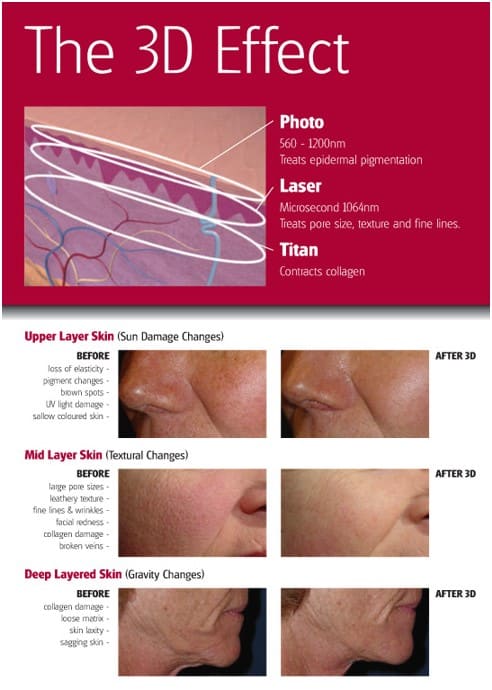 (*Disclaimer: Results will vary from person to person.)
Please call us to book your free consultation on 0845 603 6150
The 3D Effect
Dr Sagoo is the leading doctor in the UK using 3D Laser Skin.
He has been featured in the 'Daily Mail and 'Eve' magazine offering his expert advice on this, the latest in skin rejuvenation treatment.
2D Skin Rejuvenation
Some people do not have the skin laxity but have all the other signs of sun damage. Therefore a customised programme using only pulse light and photo rejuvenation is used. This is called 2D skin rejuvenation, and targets the superficial and middle layers of the skin.
1D Skin Rejuvenation
Some people only have superficial sun damaged skin, and may require only the laser photo rejuvenation treatment or the pulsed light treatment on its own. Therefore only one of the three treatments are used.
Cost of single treatment  2D
£390 per treatment
Cost for course of treatment  3D
£700 for a course of 2
£950 for a course of 3
Cost of single treatment 3D
£650 per treatment
Cost for course of treatment
£1200 for a course of 2
£1400 for a course of 3
For further information please call us on 0845 603 6150.