Cellulite Treatment / Fat Reduction
CelluTite is a minimally invasive procedure that targets the structural problems below the skin that appear to be the cause of cellulite. CelluTite may offer a long-lasting solution to the problem of cellulite, using Radio Frequency Assisted Liposuction (RFAL) technology.
RFAL involves the application of heat-producing energy during the procedure, with the goal of smoothing cellulite pockets and restoring a smoother skin surface.
Benefits of this cellulite treatment may include:
Thicker, smoother skin
Long-lasting results
Minimal down-time
Done under local anaesthesia
Minimal discomfort, minimal incision
Good results after one session
(Results will vary from person to person.)
What is the intended result?
You may see smoother, tighter skin. Results can often be seen immediately, with best results usually noticeable after six to twelve weeks. The Cellulite treatment may be repeated twelve months following the first treatment, if desired. Results may last approximately twelve to sixteen months, though this varies from patient to patient.
Is anaesthesia used?
The procedure is carried out under local anaesthesia for localised, smaller areas of cellulite. Analgesia may be given beforehand to relax the patient.
How long will I need to take off from work?
Most people return back to work within one to two days after having the procedure.  Daily activities can be resumed immediately and more vigorous exercise can be resumed within four weeks.  Elasticated garments are worn for up to four weeks after the procedure.
How do I know if I am a good candidate?
CelluTite is usually used for patients with moderate to severe cellulite.  Common areas for Cellulite treatment include the buttocks, thighs, and upper abdomen.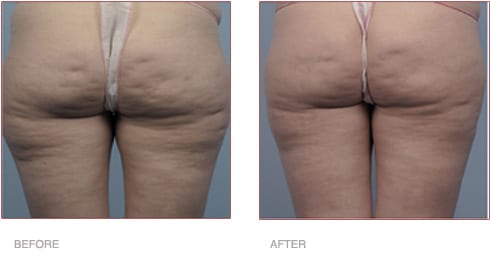 CelluTite back
(*Disclaimer: Results will vary from person to person.)
CelluTite side
(*Disclaimer: Results will vary from person to person.)
For further information please call us on 0845 603 6150.