CO2 Laser Resurfacing is a form of laser treatment that aims to improve the look of wrinkles on the face, in areas where they occur the most, around the lips, eyes, cheeks, and forehead. It is also used for people who have other skin issues, such as sun-damaged skin, facial acne scars, uneven pigmentation, and pores. It is one of the most powerful skin renovating procedures available, and the results are noticeable.
Here at Solihull Medical Cosmetic Clinic, Dr Sagoo has over 17 years of experience completing cosmetic and dermatology procedures and has become a leader in using lasers in cosmetic treatments. His medical clinic has spearheaded the use of the latest and best treatment available in the UK, including CO2 Laser Resurfacing.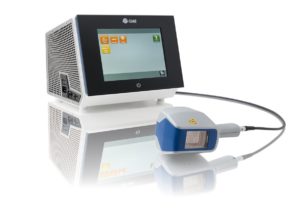 How does CO2 Laser Resurfacing work?
With CO2 laser resurfacing, only the treated regions of the skin suffer damage, with the majority of the surrounding skin remaining intact. This damage to the dermis causes the production of new collagen, which may lessen the appearance of wrinkles, scars, and acne.
Because the healthy, untreated tissue serves as a natural bandage while the treated region recovers, fractional skin resurfacing may enable the skin to heal more quickly than if the entire area were treated.
As a result, long-term collagen stimulation may take place, which could lessen creases and wrinkles over the coming few months.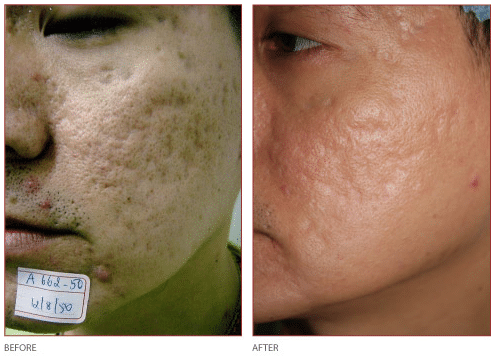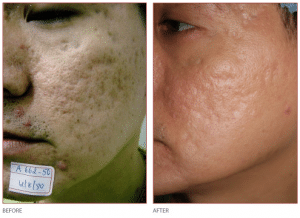 Post Procedure
The treatment itself is safe and effective, however, immediately after the procedure, you will feel a burning sensation that can last from one to four hours. You may experience some swelling and discomfort over the next four to five days, and your face will continue to look pinkish or red. But don't worry – this is completely normal with CO2 Laser Resurfacing.
After the first treatment, you will see an immediate improvement in the skin's texture, but in order to get the best from the procedure, you will need an average of two to three treatments monthly, for around three months. This is because the skin will continue to produce collagen and skin tightening will continue within this time frame.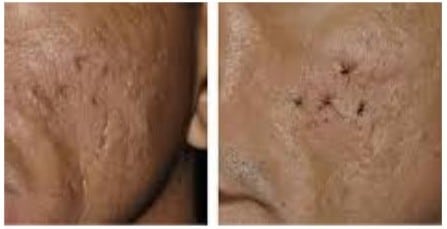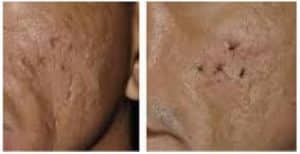 Results from CO2 Laser Resurfacing
Immediately, your face will be looking and feeling a lot fresher and tighter. Wrinkles and lines around the mouth and eyes will be tightened, sun damage spots will be reduced, and the overall skin texture will feel firmer. This works by the outer layer of the skin ultimately being removed and replaced by the new skin underneath, which will provide a smoother, more young-looking appearance.
Why should I have it done?
If you suffer from sun-damaged skin, fine lines, wrinkles, or looser skin on the face, and are looking for quick and visible results, then CO2 Laser Resurfacing may be something to consider. It's a safe and effective procedure that provides great results with minimal downtime, so you can go about your normal life after having the treatment. If you're seeking younger-looking skin, then contact us today to book a consultation.
If you would like to know more information about CO2 Laser Resurfacing or would like to speak to a professional, then get in touch today for a chat.