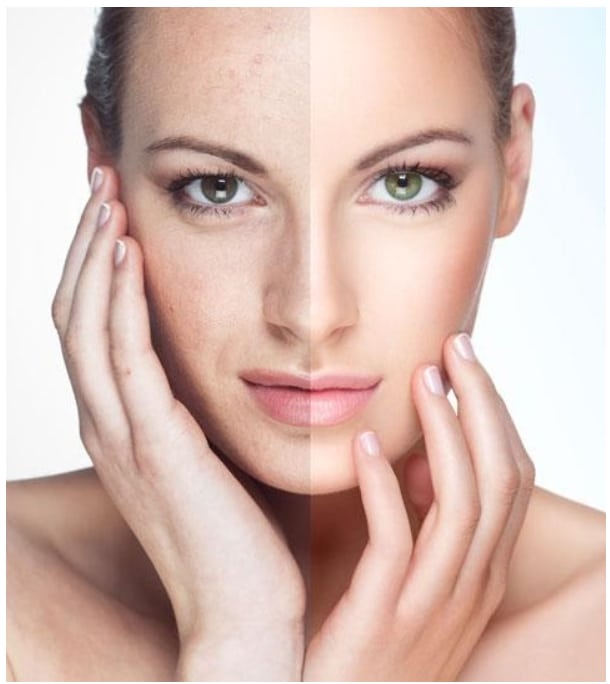 Solihull Medical Cosmetic Clinic under the care of leading laser expert Dr Victor Sagoo is proud to be one of the very few clinics in the UK offering the most powerful IPL treatment for sun damage, skin rejuvenation and facial redness.
The Cutera LimeLight delivers a non-invasive light treatment that can be customized for different skin tones and ageing skin conditions. The result is an exceptionally effective skin rejuvenation treatment with minimal discomfort.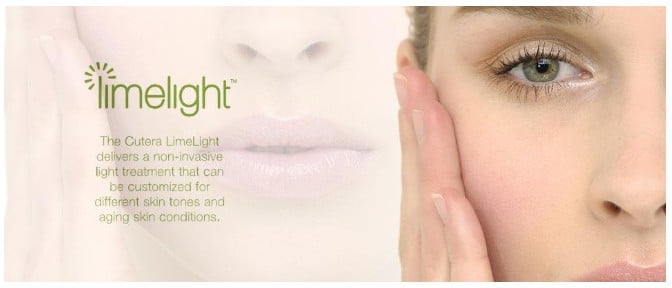 What is the LimeLight facial?
The LimeLight Facial is a new, non-invasive approach to skin rejuvenation using Cutera's LimeLight. The procedure offers the advantage of improving skin tone and surface imperfections associated with ageing and photodamage. 
What areas can be treated?
 The LimeLight Facial is ideal for any part of your face, neck and décolleté with skin redness, telangiectasia (tiny veins) or brown spots. Light (low contrast) brown spots, which were previously difficult to resolve, respond very well to treatment.
What does the treatment do?
 By selecting Program A, B or C, your practitioner can customize your LimeLight Facial to your skin type and selectively treat the brown and/or red pigmented areas on your skin. It's the heating of the pigmented brown or red cells that causes the therapeutic effect.
 What do treatments feel like?
 When the pulse of light is delivered, patients will experience a mild pinching or stinging sensation. The gel is recommended to cool the skin before vascular treatments. Anaesthesia or pain medicine is typically not required.
 How long will the treatments take?
Treatment time depends on the area of the body being treated. However, most treatments should take less than one hour. 
How many treatments will I need?
 Two to six treatments are usually sufficient to see results. Additional treatments may be recommended, especially for excessively sun-damaged skin.
What happens after the treatment?
Immediately following treatment, brown spots will start to darken and your skin may appear slightly red. The treated area may be mildly swollen. This typically lasts a few hours and possibly a day or longer. Make-up can be applied to cover the redness. 
When will I see the results?
Within one to three weeks, the darkened spots will flake off and fade. Diffuse redness or telangiectasia will decrease and your mottled complexion will improve. 
Will the spots and redness reappear over time?
 New brown spots, telangiectasia and diffuse redness may appear with new sun damage; however, they too can be treated. Remember to always apply broad-spectrum sunscreen when outdoors to minimize sun damage and the appearance of new spots and diffuse redness. Rosacea is chronic and cannot be "cured" with any laser or light source, however, its appearance can be improved. www.cutera.com Schedule your consultation now to find out if you are a good candidate for LimeLight Facial. 
LimeLight Facial™ Treatment of Skin Redness, Tiny Veins, Brown Spots and Sun Damage.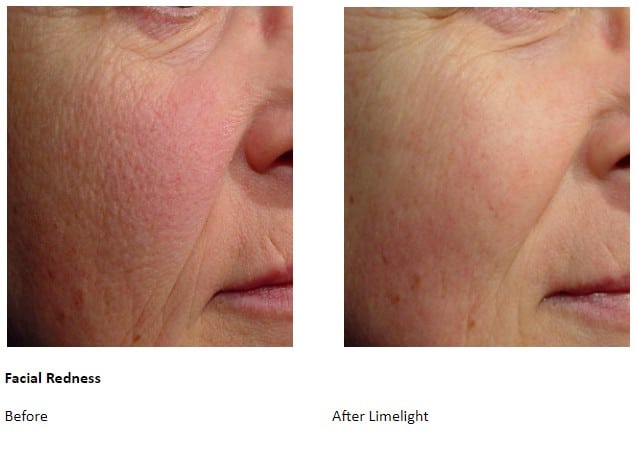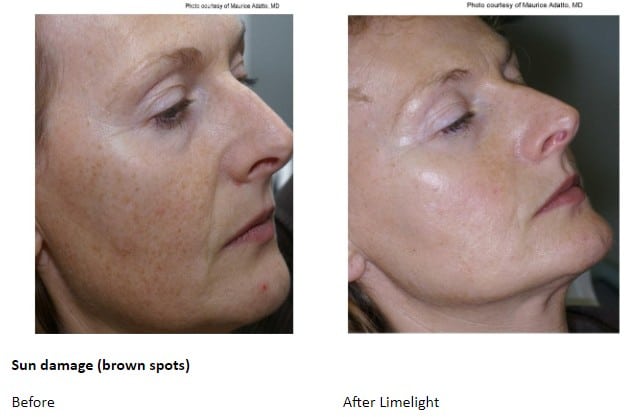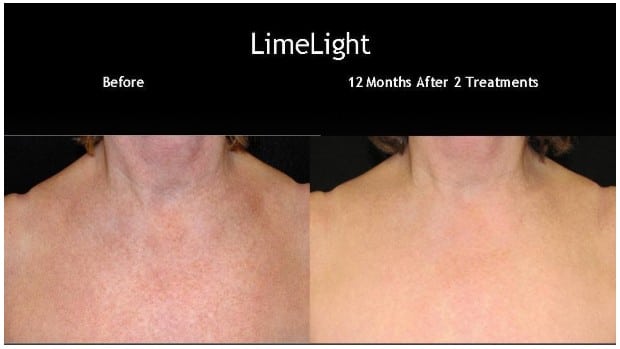 How does Cutera 2D skin rejuvenation work?
A 2D facial utilises Cutera technology, combining Laser Genesis and Limelight IPL in the one session to treat two different layers of your skin. These treatments are also available individually.
Laser Genesis uses an ND: Yag laser with a wavelength of 1064nm for mid dermal stimulation to encourage new collagen production. Collagen is what keeps our skin looking young and firm.
The Limelight is an IPL (intense pulsed light). It aims to improve the superficial appearance of the skin by addressing pigmentation, sallowness, enlarged pores, fine lines and tiny telangiectasia (spider veins).
By using both in the one session, most skin concerns can be improved although results vary.
We recommend a course of 4-6 treatments. Each session takes about an hour.
What will my skin look like afterwards?
We will advise you on how to treat your skin for the next couple of days.  The skin will be glowing, and without the makeup, may look a little sunburned. You leave makeup on until you wash your face before bed.
Your skin may feel a little dry and tight, like wind or sunburn for a day. 
The next day you can put on normal makeup.
For people with dark spots, you may notice they go a darker black and then kind of just flake off. 
You will notice improvements after each treatment, but your skin may continue to improve for several months after the treatment as new collagen is produced.
After four treatments your skin feels smoother and firmer, and any summer freckles have all but gone.