Medical Microdermabrasion
Medical Microdermabrasion is a procedure which combines positive air pressure and firing pure salt crystals at the skin surface. The procedure is intended to remove the superficial layer of 'dead skin' and leave smoother skin with an improved texture. The procedure may help with certain forms of acne scarring, age spots, milia and even stretch marks with minimal or no downtime.
Unlike inferior dermabrasion machines in beauty salons, the medical microdermabrasion machine that the Solihull Medical Cosmetic Clinic uses is more powerful and may be able to resurface the skin to a deeper level to optimise results. Unlike a resurfacing laser treatment, which is invasive, there is minimal discomfort and redness with virtually no downtime with this procedure.
After the medical microdermabrasion procedure, an ultrasound massage procedure is carried out to penetrate antioxidants and vitamins into the skin to stimulate the production of collagen and elastin, which may lead to smoother looking revitalised skin.
The whole procedure takes approximately thirty minutes. A course of six to eight treatments, about fourteen days apart, is usually recommended. For some patients, results may be further enhanced by combination treatments with facial peels; see below.
In clinical trials using the type of medical microdermabrasion that we use here at Solihull clinic, there has been up to a 65% improvement in abdominal stretch marks after a course of treatments.
Stretch marks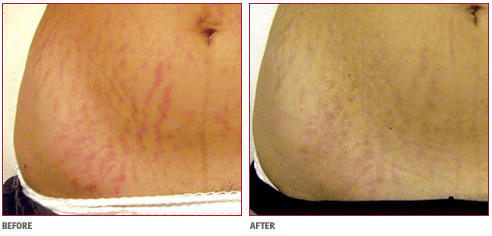 Acne scarring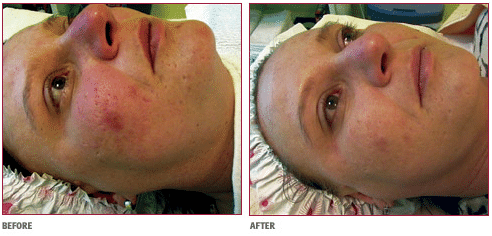 Acne scarring can be embarrassing and debilitating. Medical microdermabrasion may significantly improve acne scarring; results may be further enhanced by combining this with other treatments.
Combination treatments of Microdermabrasion
Microdermabrasion can be used as a stand-alone treatment (as an alternative to superficial chemical peels), or can be used in combination with other cosmetic treatments to help with certain skin problems, such as:
Microdermabrasion and mesotherapy injections into the skin, which may lead to rejuvenation.
Microdermabrasion and laser skin rejuvenation, to help improve damaged skin.
Microdermabrasion and dermaroller needling, which may lead to skin rejuvenation and improve scarring.
Microdermabrasion and superficial glycolic chemical peel alternating treatments.
This treatment has the advantage of being safe in all skin types, from white to dark skin, with minimal downtime. This makes medical microdermabrasion an ideal choice of treatment for many.
For a list of combination and single treatments and costs, please call us on 03300 417 494 or contact us here.