Laser removal of Facial & Leg veins
The Solihull Medical Cosmetic Clinic is one of the leading laser cosmetic clinics in the Midlands to treat face and leg veins. Dr. Sagoo, a laser expert, has treated hundreds of clients with thread veins and reticular veins. Thread veins can be embarrassing to some people and may affect their confidence in public. Laser removal of thread veins usually causes minimal discomfort and down time, and over a course of monthly sessions may significantly reduce the appearance of veins.
Laser vein removal should only be carried out by a doctor due to the risks of causing complications. "I personally treat all my clients myself from start to finish of the course of treatments." -Dr. Sagoo
The clinic regularly receives referrals from the private hospitals as well as GPs and clients from across the UK.
Facial Thread Veins
Also called 'broken veins,' these are fine red veins appearing near the skin surface. They may be caused by sun exposure, cold weather, and hormonal changes during pregnancy and family history. The veins may become larger over time and may appear in clusters. They can look unsightly for the individual.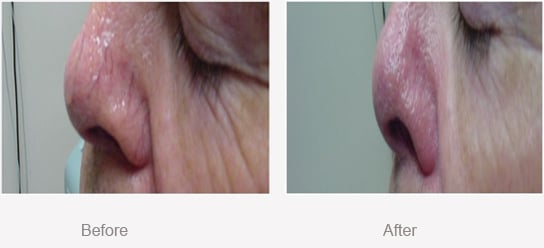 Thread veins nose                               after laser treatment     
(*Disclaimer: Results will vary from person to person.)
For further information please call us on 0845 603 6150.