1D, 2D, 3D Skin Rejuvenation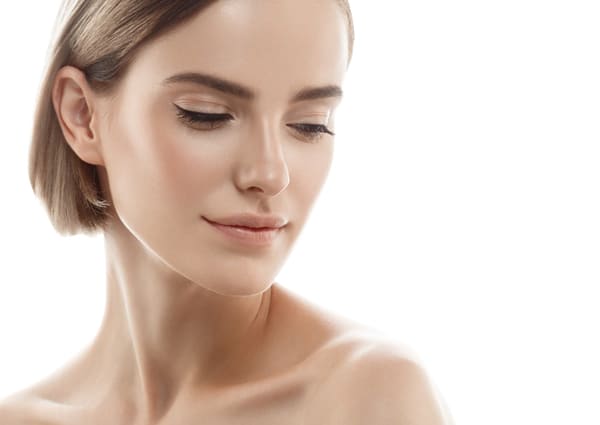 Every person ages in different ways. Some develop redness, age or sunspots. Others have large pores, fine lines and wrinkles or lax skin. You may have one, two or all of these conditions.
Solihull Medical Cosmetic Clinic under the supervision of Dr Sagoo is proud to be the first clinic in the UK to offer the latest laser treatment that may help with sun damage or ageing skin. Unlike current laser treatments, which may only target one or two signs of ageing, Laser 3D Skin Rejuvenation may target three layers of the skin (superficial, middle and deep dermis) all in one treatment! Utilising a three-tiered approach, the 3D laser may improve a variety of conditions, including redness, age or sun spots, large pores, fine lines, wrinkles and lax skin.
1D, 2D, 3D Skin Rejuvenation Treatments
3D Laser Skin Rejuvenation involves using three separate non-invasive laser procedures, each targeting different problems and depths of skin involvement, and using them in various combinations. The Laser Skin Rejuvenation treatment may help to:
Reduce sunspots.
Reduce facial redness.
Reduce pore size.
Improve and smooth the texture of the skin.
Tighten loose skin.
Reduce fine lines and wrinkles.
Stimulate and remodel damaged collagen.
All at the same time, with no downtime and non-invasive.
Who can be treated for Laser Skin Rejuvenation?
Men and women of any age who wish to improve their skin can be treated. The most common conditions that this treatment may help with are surface wrinkles, redness, brown spots and enlarged pores.
What areas can be treated?
The most popular Laser Skin Rejuvenation treatment areas are the face and neck but other body parts such as the hands, arms and abdomen can also be treated.
What do skin rejuvenation treatments feel like?
Using three different laser skin rejuvenation treatments to treat the three different layers of the skin, the first intense pulsed light feels like a mild brief pinching sensation. The second laser photo-rejuvenation feels gentle and soothing. Most patients are comfortable without feeling any pain, in the session you will feel warm pulses along your skin. The 3rd is radiofrequency energy which works on the deep level of the skin to tighten. This leads to generalised heating of the skin to optimum temperatures to cause immediate collagen contraction followed by gradual collagen contraction throughout treatments.
How many treatments will I need?
Each treatment regime is different and customised to an individual's needs. Most patients can expect up to  4 to 6 treatments.
What are the side effects?
The most common side effect of Laser Skin Rejuvenation treatments is a slight redness or mild swelling that disappears within a few hours.
When will I see my results?
Most people see results within two to four weeks, and improvement may continue for several months. Results will vary from person to person.
What are the three laser skin rejuvenation treatments used at the same time?
Laser Genesis utilizes non-invasive, non-ablative laser technology to affect the protein collagen molecules and the vessels in the dermis. Parameters of treatment are selected that create gentle warming of the skin while these structures are targeted. Long-chain collagen molecules are shortened and the growth of new collagen is facilitated.
The Laser Genesis safely, discretely and effectively treat fine-line wrinkles, large pores, uneven skin texture, diffuse redness and scars. You can expect to see subtle yet consistent results after each treatment, without unwanted side effects such as bruising or excessive skin irritation. Treatments can be performed in a relaxed, comfortable manner without the use of topical anaesthetics or gel.
Laser Genesis patients report excellent results over their entire faces and necks. Additionally, practitioners may suggest this therapy to diminish recent scars on other parts of the body.
Patients often describe this skin rejuvenation treatment as relaxing and therapeutic. You will experience a gentle warming of your skin's surface during the procedure as the laser handpiece is moved back and forth about 1/2 inch above your skin. You can immediately return to normal activities, utilizing sunscreen if participating in outdoor activities
By gently heating the upper dermis well below your skin's surface, Laser Genesis skin rejuvenation treatment stimulates collagen regrowth. Additional heat is generated in dilated capillaries to reduce redness.
The treatment results are often subtle. On average, you may require four to six treatments to achieve optimal results. Every patient's condition and needs vary. For more information about your expected results or the number of treatments necessary, consult your physician.
Throughout four to five treatments, Laser Genesis skin rejuvenation treatment can help restore the skin's youthful glow and appearance by smoothing out uneven textures caused by ageing, sun damage or scars. You will see a more creamy, healthy complexion as large pores are reduced in size, and minor imperfections are diminished. The individual treatment results are subtle, but the overall effect of multiple treatments can be quite dramatic.
IPL is a light-based treatment that may improve problems right at the skin's surface, such as redness, mottled complexions, freckles and sun damage.
1. Intense Pulsed Light Therapy (IPL)

Before and After 3 treatments laser genesis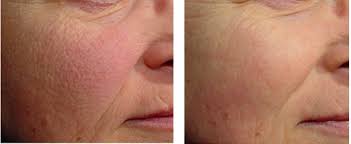 Before and After 2 months 2D rejuvenation
3. Fractora Forma uses radiofrequency waves to heat tissue, which leads to skin contraction of loose skin.
"Fractora Forma is a non-invasive skin rejuvenation treatment that promotes skin tightening by heating the deep layers of skin. There is no downtime or discomfort. Fractora Forma may stimulate the production of your own elastin and collagen to promote beautiful skin tightening and improve the skin's elasticity for long-lasting remarkable results."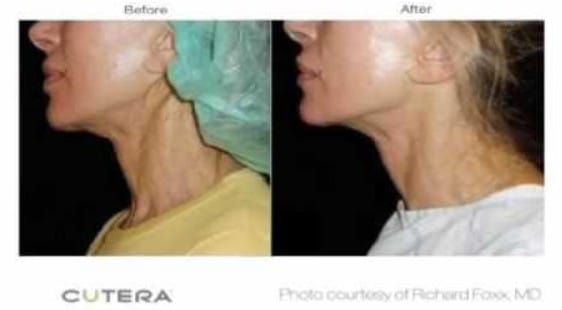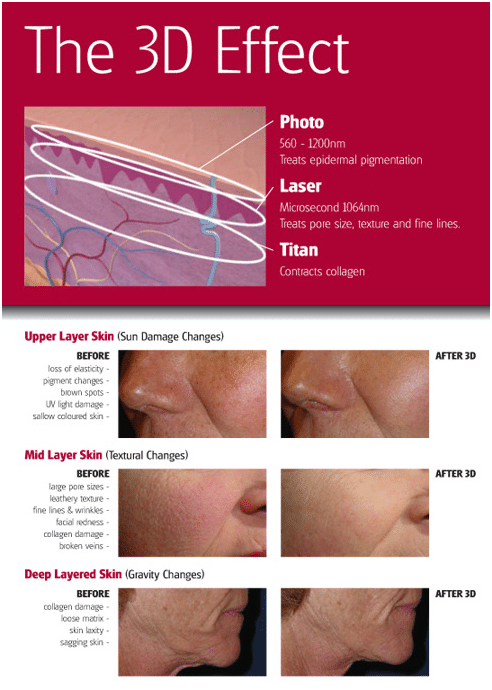 Dr Sagoo is the leading doctor in the UK using 3D Laser Skin.
He has been featured in the 'Daily Mail and 'Eve' magazine offering his expert advice on this, the latest in skin rejuvenation treatment.
Some people do not have skin laxity but have all the other signs of sun damage. Therefore a customised programme using only pulse light and photo rejuvenation is used. This is called 2D skin rejuvenation and targets the superficial and middle layers of the skin.
Some people only have superficial sun-damaged skin and may require only the laser photo rejuvenation treatment or the pulsed light treatment on its own. Therefore only one of the three treatments is used.
To arrange your consultation, please contact us on 03300 417494.